Best Road Races Nominations
Click here for Nomination Form · Best Road Races
We need your help... Use the form below to nominate races you think should be considered for the UjENA FIT Club Best Road Races in North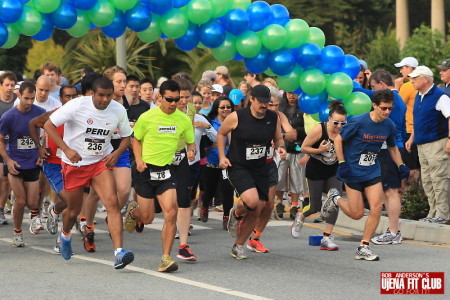 America list. Only nominate races you have run or have spoken to someone who has run it.
These 10 things are being considered in selecting our UjENA FIT Club Best Road Races. (Events with several different races are being considered as one.) 1. The 2012 race will be at least the second annual. 2. All runners previously in the featured race were timed and results were posted timely on the internet. 3. The race has a website and anyone can enter. 4. The distance of the feature race is between 5k and the marathon (26.2 miles). 5. The race is unique in some way. 6. The race offers a lot to it's runners and not just to their elite field (if they have one). 7. The race is held on a certified or accurately measured course. 8. The course was set up with the runner in mind with aid stations, splits etc. 9. The entry fee is reasonable based on what the runner receives. 10. And most importantly the race was a fun memorable event.
New races will be included in our list as they are approved by the UjENA FIT Club.
Photo: Start of the Miles for Migraine 10k/5k in Golden Gate Park 2011. Photo taken by Catherine Cross for UjENA FIT Club.
Nominations
Share on Facebook
| | | | | |
| --- | --- | --- | --- | --- |
| Nominated By | Race Name | Location | Distance | Date |
| Bob Anderson | Brazen New Year's Day Half Marathon | Lake Chabot, CA | Half Marathon, 10K, 5K | 01/01/2013 |
| Bob Anderson | Roma Ostia Half Marathon | Rome, Italy | Half Marathon | 03/03/2013 |
| Peter Mullin | Bayou City Classic | Houston, Texas | 10K | 03/09/2013 |
| Jim | Lilac 10k | Macinac island Michigan | 10k | 06/08/2013 |
Note: Race Dates marked (*) are not yet confirmed.
Nominate a Race!
IMPORTANT: Do not enter a URL in any field *except* "Race Info Website", otherwise your entry will be discarded. Thank you!